Dr. Nancy Lam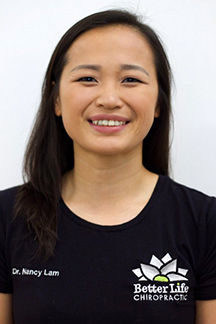 Dr. Nancy Lam was born and raised in Iowa where she learned the importance of family and health. She graduated from Mason City High School where she participated in several competitive sports: Soccer, Track and Field, Softball and Basketball. She then studied at North Iowa Area Community College and received an Associate in Art and Science degree. She continued her education at Palmer College of Chiropractic where she obtained her Bachelor of Science and Doctor of Chiropractic degree. While studying at Palmer, she was a member of the Student Council, Sigma Phi Chi and was a scholarship rugby player. On top of her studies, she got the opportunity to travel to Manaus, Brazil with the clinic abroad program at Palmer College to provide care for the impoverished community.
Dr. Lam is a National and Indiana State Board certified chiropractor. She practiced in Indianapolis for 3 years and started up Better Life Chiropractic with Dr. Taylor Andrews in 2019. Dr. Lam is passionate in guiding others to optimize their health holistically with the help of chiropractic care.
Dr. Lam is dedicated to providing quality care and sharing her experience about the power and benefits of chiropractic. Her techniques include: Gonstead, Diversified, Activator, Thompson technique, Malley's upper and lower extremity, upper cervical/TMJ, Instrumented assisted myofascial release, trigger point therapy, Kinesiotaping, and rehabilitation.
Out of the office, Dr. Lam enjoys keeping in touch with family and friends, exploring outdoors, reading, and exercising. She can also be found supporting local restaurants and shops.
Dr. Taylor Andrews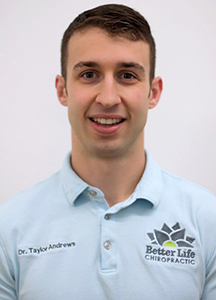 Dr. Taylor Andrews grew up in Lafayette, Indiana with an interest in exercise. Participating in football, wrestling, and track helped Dr. Andrews express himself in a healthy way. Chiropractic was introduced to him following a wrestling injury. Dr. Michael Haville, a local Chiropractor, restored function to his life with chiropractic adjustments. Dr. Andrews experienced the power of chiropractic which guided him to pursuing chiropractic as his profession.
Dr. Andrews continued his studies, Biology and Philosophy, at Purdue University. Dr. Andrews then went to Palmer College of Chiropractic to obtain his Doctorate in Chiropractic. While at Palmer, Dr. Andrews joined a chiropractic fraternity, Pi Kappa Chi, and was a student council representative.
Dr. Andrews' Chiropractic techniques include: Gonstead, Activator, Thompson, instrument assisted soft tissue manipulation, Malley's extremities and upper cervical/TMJ, rehabilitation and Diversified.
Dr. Andrews is a National and Indiana State board certified Chiropractor. He is dedicated to quality chiropractic education and care for the greater Lafayette area.
Since graduating, Dr. Andrews opened Better Life Chiropractic in Lafayette with Dr. Nancy Lam. Outside of the office, Dr. Andrews enjoys supporting local businesses, cycling, lifting weights, music, and reading.